Nova Scotia, often referred to as Canada's Ocean Playground, boasts a diverse range of picturesque landscapes, from rugged coastlines to serene valleys and dense forests. Its natural charm provides an ever-changing backdrop for cyclists, making every ride unique and memorable. Beyond the visual allure, cycling has grown significantly in popularity throughout Nova Scotia. This surge can be attributed not only to the province's topography but also to the communal spirit and enthusiasm for outdoor activities.
The recent infrastructure developments, events, and campaigns advocating for cycling further emphasize its significance in the region, positioning Nova Scotia as a premier destination for both amateur and professional cyclists.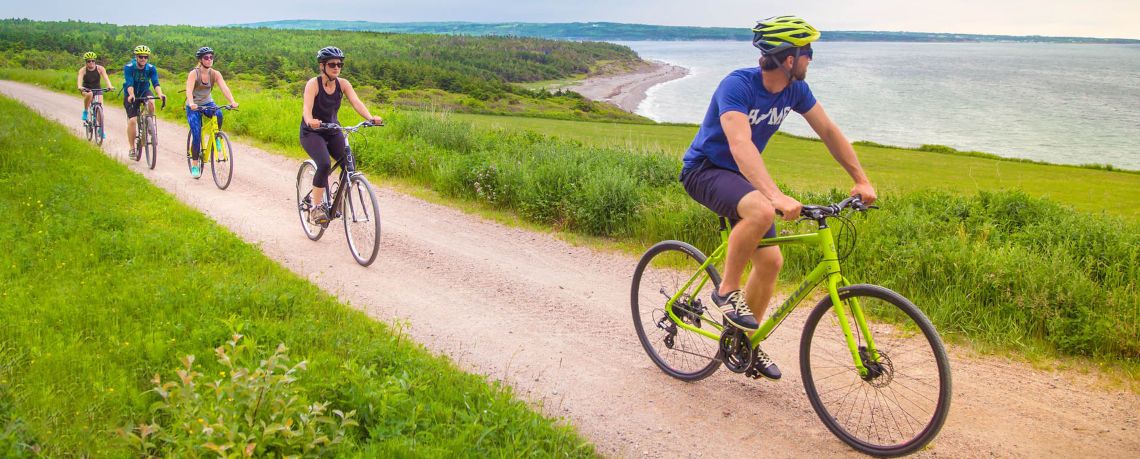 Cabot Trail
📍 Location: Cape Breton Island, Nova Scotia
✨ Highlights:
Scenic 298-kilometer drive with panoramic ocean views.
Rugged coastline, highland scenery, and picturesque villages.
Opportunities for hiking and wildlife sightings.
Route Direction:
Clockwise: Easier climbs, coastal views.
Counterclockwise: Challenging ascents, for the adventurous.
Best Time: Late spring to early fall; September for fall foliage.
🌟 Experience: A blend of natural beauty and cultural depth. A must-ride for cycling enthusiasts.
Stretching approximately 298 kilometres (trail drive length), the Cabot Trail is a crown jewel in the heart of Cape Breton Island. It offers awe-inspiring vistas of the Gulf of St. Lawrence and Cape Breton's highlands, ensuring a spectacular ride.
Cabot Trail Map & Distance: Understanding the Route
Dedicated Cabot Trail maps provide an in-depth look into the bicycle route's length and terrain. A full circle around the Cabot Trail covers a distance of close to 300 kilometres, with various elevations offering both challenges and visual treats.
Cycling Cape Breton's Cabot Trail: Why it's a Must-Ride
The breathtaking landscapes, coupled with the rich cultural experiences of Celtic music, delicious seafood, and friendly communities, make cycling Cape Breton's Cabot Trail an unforgettable journey.
Clockwise or Counterclockwise? Tips for Cycling the Trail in Either Direction
If you cycle the Cabot Trail clockwise, prepare for demanding uphill climbs, particularly around Smokey Mountain. Opting for the counterclockwise route offers a more extended, less steep ascent. Either way, the scenery remains unparalleled.
Best Time of Year to Ride the Cabot Trail
June to September provides ideal conditions, though always be prepared for unpredictable weather.
Annapolis Cycle Route
📍 Location: Annapolis Valley, Nova Scotia
✨ Highlights:
Colonial landmarks reminiscent of Nova Scotia's rich past.
Lush landscapes of the fertile Annapolis Valley.
Proximity to the Annapolis River and scenic views along its course.
Variety of quaint towns offering historic insights.
🌟 Experience: A serene blend of history and nature, suitable for all cycling enthusiasts.
An iconic and historic bike route in Nova Scotia, the Annapolis Cycle stands apart with its colonial landmarks and lush valley landscapes, offering a different charm compared to the hilly terrains of Cape Breton.
Rum Runners Trail
📍 Location: Between Halifax and Lunenburg
✨ Highlights:
A 119-kilometer trail steeped in prohibition-era history.
Well-marked paths with interpretative signs explaining the rum-running legends.
Stops at historical sites and vantage points.
Destination at the Lunenburg Bike Barn.
🌟 Experience: A historical deep dive into Nova Scotia's exciting past.
A delightful 119-kilometre multi-use trail, the Rum Runners Trail traces the stories of prohibition-era rum-running between Halifax and Lunenburg. Cycling enthusiasts can take a leisurely ride from Halifax to the Lunenburg Bike Barn, steeped in history.
100 Wild Islands
📍 Location: Eastern Shore, Nova Scotia
✨ Highlights:
Unspoiled views of the pristine Eastern Shore islands.
Opportunities for beach stops and coastal exploration.
A tranquil route ideal for nature lovers.
🌟 Experience: A serene escape into one of Nova Scotia's most preserved natural landscapes.
Riders in search of untouched beauty will find the 100 Wild Islands, NS, route irresistible. As an emerging favourite, it offers serene views of Nova Scotia's pristine Eastern Shore islands.
Burntcoat Head Park Route
📍 Location: Towards Burntcoat Head Park
✨ Highlights:
Home to the world's highest tides.
Dynamic shoreline exploration during low tide.
Interpretative centers explaining the "Burntcoat phenomenon."
🌟 Experience: A maritime marvel combined with an exhilarating cycling route.
This route culminates at Burntcoat Head Park, globally recognized for the world's highest tides. Cyclists can follow Burntcoat Head's directions to the park, where the oceanic phenomenon, often simply referred to as "Burntcoat," leaves everyone in awe.
Guysborough and the Eastern Shore
📍 Location: Guysborough, Eastern Shore
✨ Highlights:
Tranquil coastal trails offering undisturbed views.
Authentic Nova Scotian experiences in the town of Guysborough.
Scenic views of harbors and natural landscapes.
🌟 Experience: A peaceful journey along the untouched coastline, filled with reflective moments.
For those seeking a quieter, off-the-beaten-path experience, Guysborough presents unmatched coastal beauty. The biking routes here emphasize the coastline's untouched and serene nature.
Blomidon and the Grand Prés
📍 Location: Near the Minas Basin, Nova Scotia
✨ Highlights:
Towering cliffs of Blomidon overseeing the waters.
Grand Prés, a UNESCO World Heritage site, showcasing Nova Scotia's Acadian heritage.
A mix of natural beauty and historical significance.
🌟 Experience: A bike route that transports riders through time and nature, celebrating the spirit of Nova Scotia.
Blomidon offers stunning cliff views and lush landscapes, while the nearby Grand Prés tells stories of Nova Scotia's Acadian heritage, making it a UNESCO World Heritage site.
Additional Tips and Resources
Bicycle Nova Scotia
A pivotal organization that provides resources, maps, and support to the province's growing community of cyclists.
Road Map and Vital Cycling Routes
Equip yourself with a detailed road map of the Cabot Trail, Burntcoat Head, and more to ensure smooth navigation.
Nova Scotia Bicycle Tours
For those wanting guided experiences, various companies curate memorable tours across Nova Scotia's bike trails.
Gear Tips
Your bike cycle journey, especially in locations like LaHave, requires essentials such as puncture kits, hydration packs, and weather-appropriate clothing. Cycling in Nova Scotia transcends the mere act of riding a bike. It's an immersive experience that connects riders to the soul of the province, offering glimpses into its rich history, vibrant communities, and untouched natural splendours. The harmonious blend of scenic beauty and cultural heritage provides a biking journey that is unparalleled anywhere else. Thus, to all enthusiasts, Nova Scotia extends a warm invitation: come, ride the coast, and let the pedals lead you through tales of time, magnificent vistas, and the very heart of Atlantic Canada.